Collingswood Rehabilitation and Healthcare Center
>
News & Events
>
Behind the Mask – Rebecca Calandra
Behind the Mask – Rebecca Calandra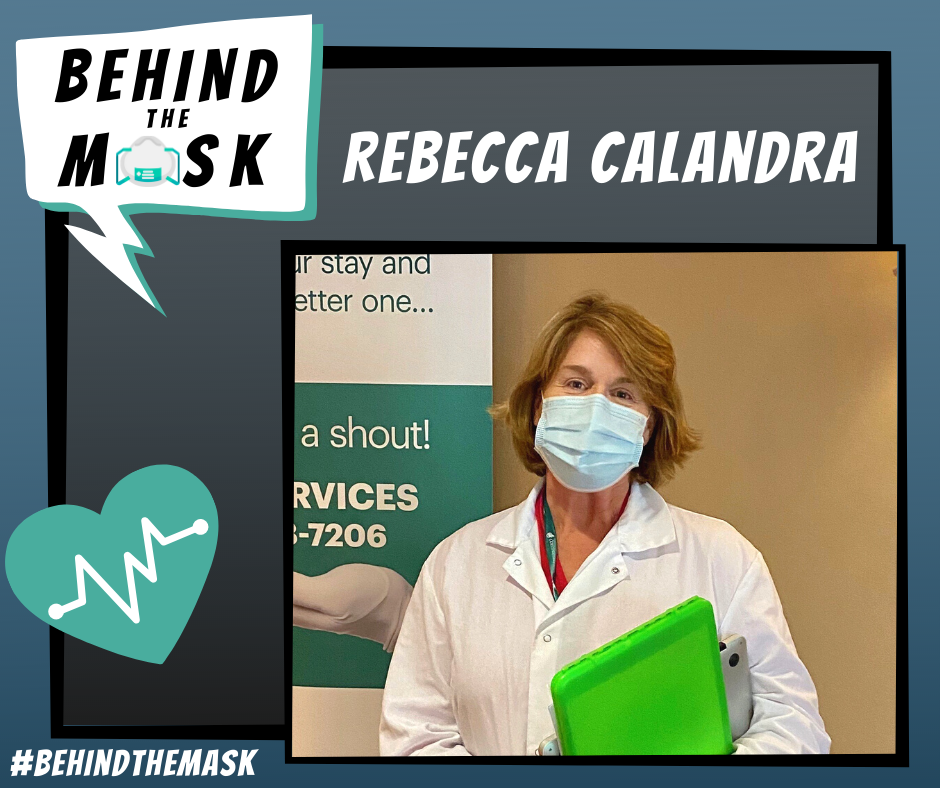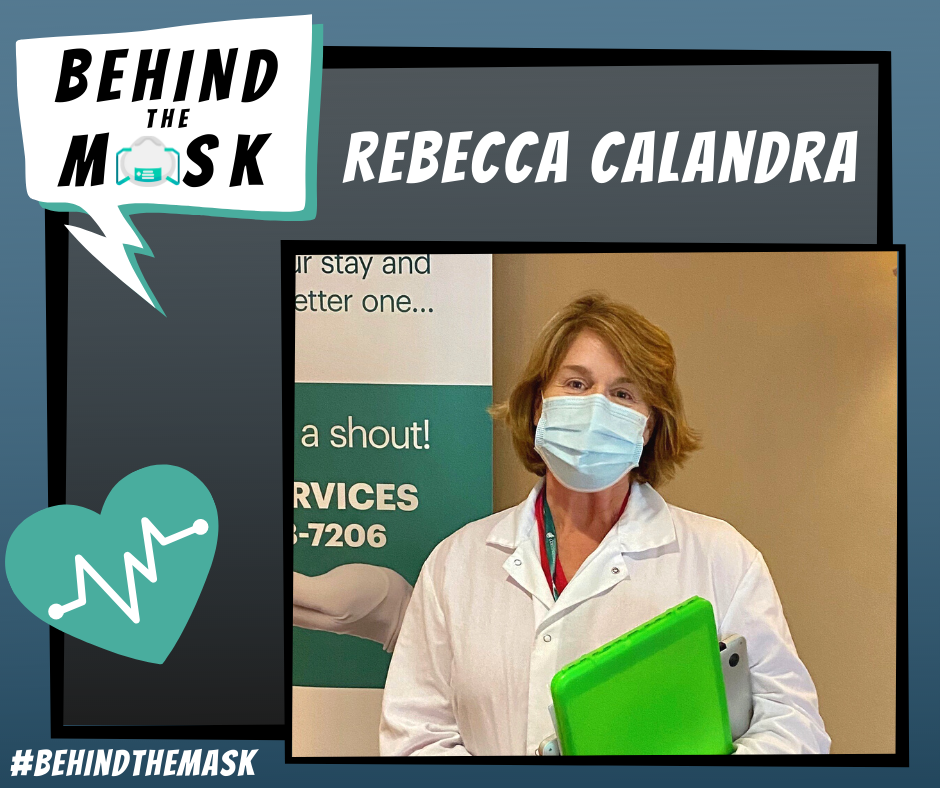 In this week's edition of "Behind The Mask," we invite you to get to know Rebecca Calandra, RN, and CRRN here at Collingswood. Becca, is heavily experienced in skilled nursing and has been a part of the Collingswood team for 9 months, with over 12 years of nursing experience under her belt. As we journeyed on a series of questions Behind The Mask we were able to learn more about her daily routines, the challenges she faces, and the rewards of nursing during COVID-19.
Becca's nursing career started after getting her Bachelor's Degree in nursing, followed by a "lengthy exam" she took to become a Certified Rehabilitation Registered Nurse. Specifically, over the past 6 years, Becca has dedicated her time to skilled nursing in rehabilitation centers and found her home in Collingswood. Her passion for nursing is outlined in everything she does. Her core reason for nursing came from her need to create care. "I love being an advocate for patients," she says, "I work very hard to make sure they receive the very best healthcare."
"It is the people that work here that make the facility so special" boasts Becca, discussing the highlights of the team's support here at Collingswood. "This is an emotional time," she says, "you can be the support another colleague needs, and then in turn when you feel like you need support, they are there for you as well." During the pandemic, however, the bond amongst staff has tightened. "One aspect that keeps me strong during this time is knowing that on my floor I have the most amazing staff who show up day in and day out to care for our residents!" she says, adding that, "The floor would not be the same without them. That co-worker bond is strong and during these times you need to hold on to what is strong and constant."
Becca emphasizes on the continual efforts her and the rest of the nurses at Collingswood have put in place to bring comfort to the residents, "With family not being able to come and visit residents, we are on the phone constantly updating family, connecting phone calls with patients in their rooms, participating in doctors and family skype phone calls, processing doctor and nurse practitioner's orders and giving resident's that extra time as we enter rooms knowing they are not able to come out and talk with others," she says.
The precautions and protocols Collingswood now enforces their staff to take has become a new norm for Becca. "We start by putting on a mask before entering the facility, your badge needs to be visible, temperature taken at the front desk and sign-in on the iPad as an employee", she says as a few examples of safety measures her and her team members take each and every day." She describes this as being the "upmost importance during the day."
Before going to work, Becca's morning routine starts with coffee. Once she is out the door, she finds little ways to start the day on a high note. "I usually have enough time for 2 songs on my playlist in the car and make sure they are energetic!" she says, finding that music is what motivates her in the morning. Once she arrives, she finds herself in faith. "I do take a deep breath before I go in and say a little prayer, especially these days." After a long day, Becca finds gratitude in her work family. "After removing my mask, I take a deep breath of fresh air and say thanks to all the wonderful people who work at Collingswood that make the day possible," she says.
Becca is a true testament to being a hero during these times, as she has worked hard and tirelessly at Collingswood. After going behind the mask, we were able to learn more about Becca's efforts and perseverance in navigating as a nurse through COVID-19. We appreciate her commitment to quality care here at Collingswood!
To learn more about Career Opportunities here at Collingswood please: Click Here