Collingswood Rehabilitation and Healthcare Center
>
Press Release
>
Collingswood Rehabilitation & Healthcare Center Hosts GROWS Meeting
Collingswood Rehabilitation & Healthcare Center Hosts GROWS Meeting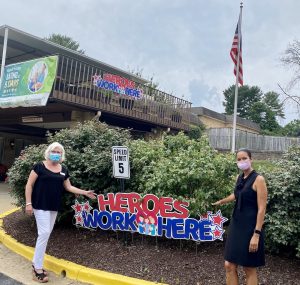 Rockville City Representatives Speak at Professional Networking Event
ROCKVILLE, Md., Sept. 1, 2020 – Collingswood Rehabilitation & Healthcare Center recently hosted a socially distanced meeting of the Grass Roots Organization for the Well-being of Seniors (GROWS). The outdoor event took place on the grounds of the skilled nursing facility at 299 Hurley Avenue.
GROWS brings together providers of services to the elderly, with a mission to foster greater coordination and collaboration. Monthly meetings include networking and a topical presentation. Trish Evans, Rockville Village facilitator, senior services, and Monique Ashton, Rockville City councilmember (pictured left and right, respectively) served as guest speakers for the program.
"This was our first time hosting a GROWS event, and we were thrilled to connect with our fellow partners," noted Collingswood's Kerri Donnelly, community relations director and Rockville City ambassador. "We thank Councilwoman Ashton and Facilitator Evans for joining us and providing great insight and for continued focus and support of seniors and public health workers in our community."
GROWS members include social service and government agencies, businesses, religious organizations and eldercare professionals. The organization educates, advocates and facilitates collaborative initiatives and public awareness regarding the needs of and vital services for the elderly.
Collingswood Rehabilitation & Healthcare Center provides post-hospital care, short-term rehab and long-term residential care. A $4.5 million renovation in the works and recognition as one of Maryland's "Best Nursing Homes 2020" in Newsweek reflect enhancements in quality care and services underway at the 160-bed Rockville skilled nursing facility.