Upcoming Event: "Being Mortal" Movie Screening – 10/10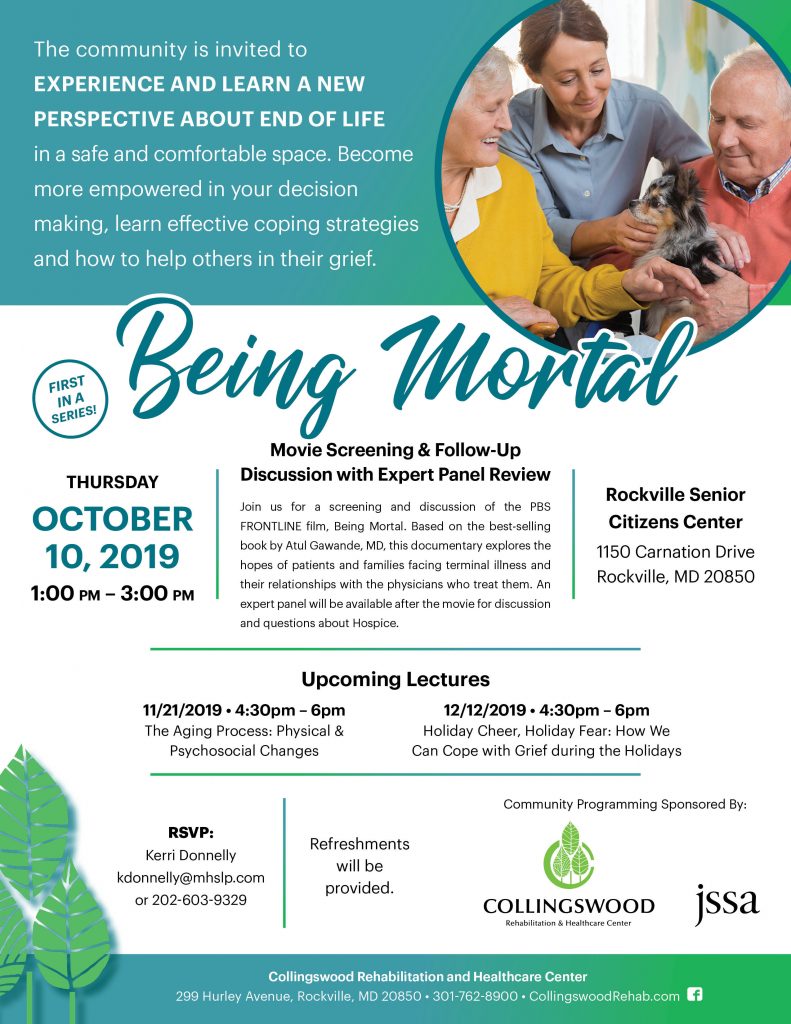 The community is invited to experience and learn a new perspective about End of Life in a safe and comfortable space. Become more empowered in your decision making, learn effective coping strategies and how to help others in their grief.
First in a Series!
"Being Mortal"
Thursday, October 10, 2019
1:00 pm – 3:00 pm
Rockville Senior Citizens Center
1150 Carnation Drive, Rockville, MD 20850
Movie Screening & Follow-Up Discussion with Expert Panel Review
Join us for a screening and discussion of the PBS FRONTLINE film, Being Mortal. Based on the best-selling book by Atul Gawande, MD, this documentary explores the hopes of patients and families facing terminal illness and their relationships with the physicians who treat them. An expert panel will be available after the movie for discussion and questions about Hospice.
Upcoming Lectures
11/21/2019 • 4:30pm – 6pm
The Aging Process: Physical & Psychosocial Changes
12/12/2019 • 4:30pm – 6pm
Holiday Cheer, Holiday Fear: How We Can Cope with Grief During the Holidays
RSVP: Kerri Donnelly [email protected] or 202-603-9329
Refreshments will be provided.
Community Programming Sponsored By Collingswood & JSSA