Meet Our Dietary Team for National Healthcare Food Service Week
In honor and celebration of National Health Care Food Service Week we thank our Food Service Team for all of their tireless dedication and commitment to #CulinaryExcellence each and every day for our patients, residents, and fellow team members.
We invite you to get to know our team a little more: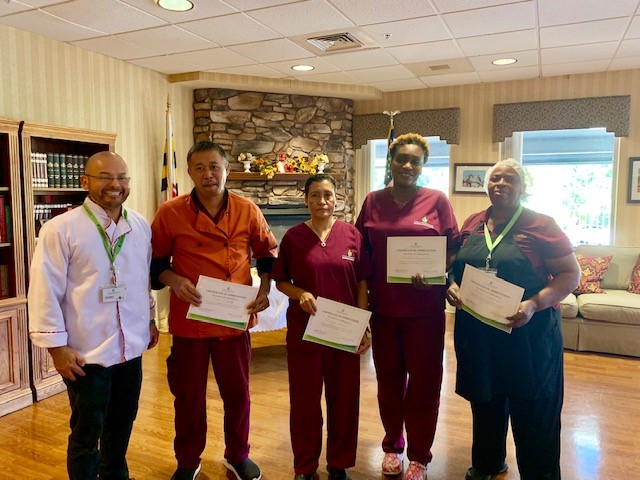 (Photographed from Left to Right)
Cesar Roggero, Food Service Director, CDM CFPP. Cesar joined the Collingswood culinary team in May 2015. He has 20 years of culinary and nutrition management experience in both corporate and healthcare operations. He is committed to serving healthy and nutritionally balanced meals to each of our residents.
Joel Lano began his culinary journey at his own restaurant which he operated in the Philippines. With over 30 years of experience, he was able to demonstrate a multitude of culinary skills at his restaurant. His specialty is in Asian cuisine.
Carmen Milagros has been part of our culinary team for 22 years. She specializes in Mexican and Latino-American cuisine.
Abra Lolonyo has been part of our team for 12 years, and she has demonstrated dedication to provide the best quality food for our residents.
Nadine Madjila, part of our team for 7 years creates and exemplifies culinary excellence and commitment to all that she does.